New
L-Xylose
Synonyms
L-(-)-xylose ; (2S,3S,4S)-oxane-2,3,4,5-tetrol ; L-Xylopyranose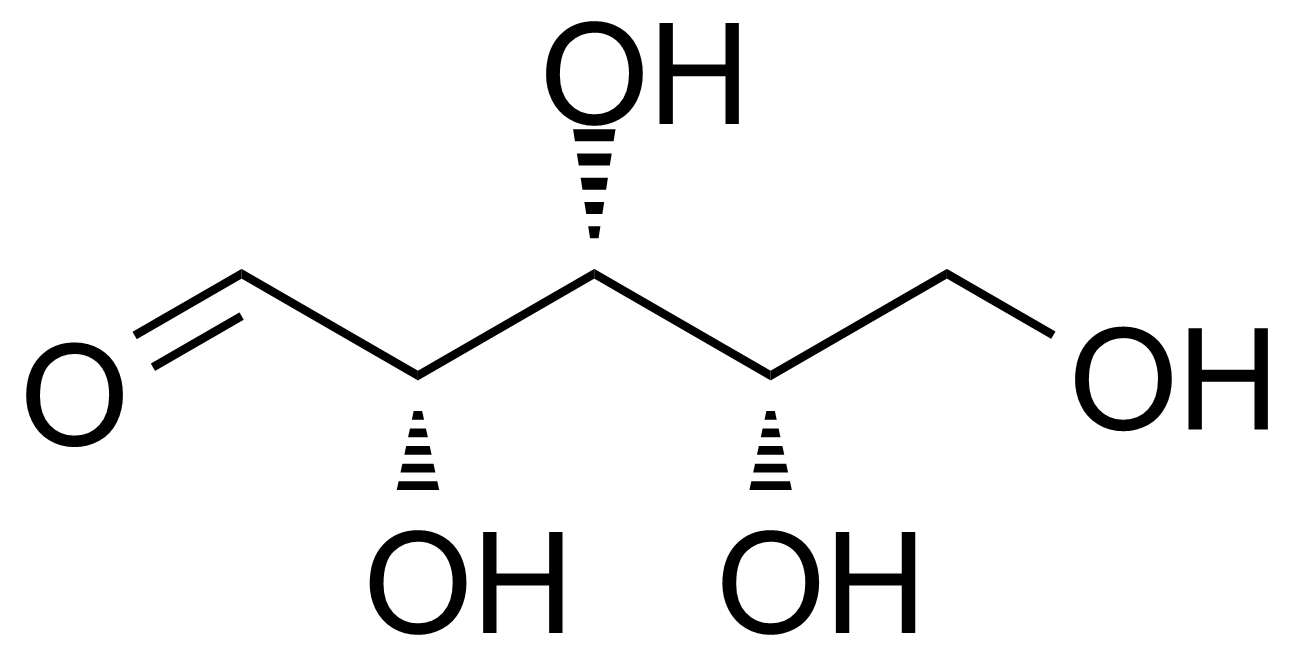 General description and preparation
Description
L-Xylose is a useful chemical compound with a variety of research applications. We are pleased to offer high quality L-Xylose in various sizes (for research, pilot-scale, or production applications) from milligrams to multi-kilogram batches, making it easy for you to choose the right amount to suit your needs.
L-xylose is used in organic synthesis as a chiral building block. It was used for the synthesis of L-ascorbic acid….
Show full description
L-Xylose
[609-06-3]
is a rare monosaccharide of the aldopentose type first isolated from wood, and named for it (ancient greek: ξύλον, xylon, "wood"). It is a white crystalline solid with the melting point of 144-145 °C.
[1]
L-Xylose can be prepared by chemical route from D-gluconolactone
[2]
or from D-sorbitol.
[3]
,
[4]
Enzymatic isomerization of the ketosugar L-xylulose to L-xylose has been presented as an alternative for low yields chemical synthesis. The starting material, L-xylulose can be produced by oxidation of the relatively cheap polyol, xylitol, using natural bacterial isolates as whole cell catalysts.
[5]
Application of Furoin:
L-xylose is used in organic synthesis as a chiral building block. It was used for the synthesis of L-ascorbic acid.
[6]
 Novel L-xylose derivatives have recently been reported to act as inhibitors of urinary glucose reabsorption, which suggests that they may find use in diabetes treatment.
[7]
Polyhydroxypyrrolidines derived from l-xylose have shown antitumor and anti-HIV properties and act as potent α- and β-glucosidase inhibitors, which also is of relevance for the development of diabetes drugs.
[8]
Product categorization (Chemical groups):
Main category:
[1]
T. G. Bonner, E. J. Bourne, S. E. Harwood, D. Lewis
J. Chem. Soc.
1965
, 121.
doi:10.1039/JR9650000121
[2]
W. B. Yang, S. S. Patil, C. H. Tsai, C. H. Lin, J. M. Fang
Tetrahedron
2002
,
58
(2), 253.
doi:10.1016/S0040-4020(01)01146-2
[3]
E. Dimant, M. Banay
J. Org. Chem.
1960
,
25
(3), 475.
doi:10.1021/jo01073a621
[4]
R. C. Hockett
Production of l-xylose
1952
, HEINZ M WUEST,
US2584129A
.
[5]
A. Usvalampi, O. Turunen, J. Valjakka, O. Pastinen, M. Leisola, A. Nyyssölä
Enzyme. Microb. Technol.
2012
,
50
(1), 71.
doi:10.1016/j.enzmictec.2011.09.009
[6]
L. L. Salomon, J. J. Burns, C. G. King
J. Am. Chem. Soc.
1952
,
74
(20), 5161.
doi:10.1021/ja01140a051
[7]
N. C. Goodwin, R. Mabon, B. A. Harrison, M. K. Shadoan, Z. Y. Almstead, Y. Xie, J. Healy, L. M. Buhring, C. M. DaCosta, J. Bardenhagen, F. Mseeh, Q. Liu, A. Nouraldeen, A. G. E. Wilson, S. D. Kimball, D. R. Powell, D. B. Rawlins
J. Med. Chem.
2009
,
52
(20), 6201.
doi:10.1021/jm900951n
[8]
J. B. Behr, G. Guillerm
Tetrahedron Lett.
2007
,
48
(13), 2369.
doi:10.1016/j.tetlet.2007.01.125