En stock
Furoin
Formule moléculaire
C10H8O4
Synonymes
2,2'-Furoin ; Furoin (mixture of isomers) ; 1,2-di-(2-Furanyl)ethan-1-one ; alpha-Furoin ; (+/-)-2-Furoin ;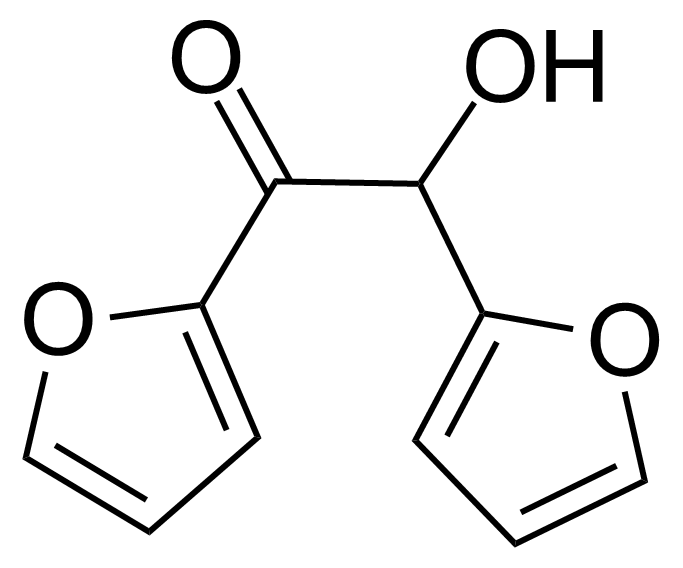 Informations réglementaires
Pas une substance ou un mélange dangereux selon le règlement (CE) no 1272/2008.
Catégorisation des produits
Description
Furoin est un composé chimique utile avec une variété d'utilisations de recherche. Nous sommes heureux d'offrir des Furoin de haute qualité dans différentes tailles (pour la recherche, l'échelle pilote ou les applications de production) du milligramme aux lots de plusieurs kilogrammes, ce qui vous permet de sélectionner facilement la bonne quantité pour vos besoins.
Afficher la description complète
Unfortunately, this article is currently only in English language. We are working on a translation. Thank you for understanding.
General description and preparation:
Furoin or 1,2-di(furan-2-yl)-2-hydroxyethanone
[552-86-3]
is a white crystalline solid with the melting point of 136-137 °C.
[1]
It can be produced from furfural via benzoin condensation in presence of cyanide ion
[2]
or N-heterocyclic carbene catalyst as various thiazolium and imidazolium ions.
[3]
They can be further supported as a recyclable precatalysts, which upon treatment with a base, catalyze furfural self-condensation coupling reaction into furoin.
[4]
Furoin synthesis from furfural is also catalyzed by vitamin B1 (thiamine). In 1957, Ronald Breslow proposed the mechanism of reaction that involves a relatively stable carbene form of thiamine, which was the first evidence for the existence of persistent carbenes.
[5]
Application of Furoin:
Furoin can be used in synthesis of pyrazine and quanoxiline derivatives by condensation with diamines.
[6]
Different tetrasubstituted pyroles can be prepared from furoin as α-hydroxy ketone via a base-promoted three-component reaction with malononitrile and alcohols
[7]
or 1,3-dicarbonyls and ammonium acetate.
[8]
Product categorization (Chemical groups):
Main category:
[1]
L. Myles, N. Gathergood, S. J. Connon
Chem. Commun.
2013
,
49
, 5316.
doi:10.1039/C3CC41588K
[2]
W. W. Hartman, J. B. Dickey
J. Am. Chem. Soc.
1933
,
55
(3), 1228.
doi:10.1021/ja01330a063
[3]
H. Sugimoto, K. Hirai
Tetrahedron Lett.
1985
,
26
(7), 883.
doi:10.1016/S0040-4039(00)61955-X
[4]
L. Wang, E. Y. X. Chen
Green. Chem.
2015
,17
, 5149.
doi:10.1039/C5GC01648G
[5]
R. Breslow
J. Am. Chem. Soc.
1958
,
80
(14), 3719.
doi:10.1021/ja01547a064
[6]
W. Song, P. Liu, H. You, X. Chen, H. Chen, L. Ma, L. Hu
Synth. Commun.
2012
,
42
(2), 236.
doi:10.1080/00397911.2010.523489
[7]
H. Liu, C. Qi, L. Wang, Y. Guo, D. Li, H. Jiang
J. Org. Chem.
2021
,
86
, 9610.
doi:0.1021/acs.joc.1c00882
[8]
S. I. Bjat, D. R. Trivedi
Tetrahderon Lett.
2013
,
54
(41), 5577.
doi:10.1016/j.tetlet.2013.07.153