Auf Lager
Furoin
Synonyme
2,2'-Furoin ; Furoin (mixture of isomers) ; 1,2-di-(2-Furanyl)ethan-1-one ; alpha-Furoin ; (+/-)-2-Furoin ;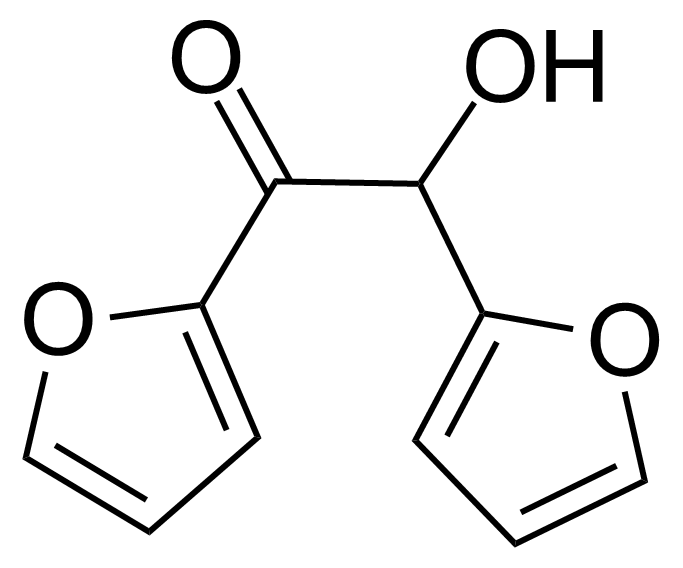 Für weitere Informationen oder eine Anfrage senden Sie uns bitte eine E-Mail oder nutzen Sie unser Kontaktformular
Regulatorische Informationen
Dieses Produkt erfüllt nicht die Kriterien für die Einstufung in eine Gefahrenklasse gemäß der Verordnung (EG) Nr. 1272/2008.
Beschreibung
Furoin ist eine nützliche chemische Verbindung mit vielfältigen Forschungsanwendungen. Wir freuen uns, qualitativ hochwertige Furoin in verschiedenen Größen (für Forschungs-, Pilotmaßstabs- oder Produktionsanwendungen) von Milligramm- bis Multi-Kilogramm-Chargen anbieten zu können, sodass Sie ganz einfach die richtige Menge für Ihre Bedürfnisse auswählen können.
Vollständige Beschreibung anzeigen
Unfortunately, this article is currently only in English language. We are working on a translation. Thank you for understanding.
General description and preparation:
Furoin or 1,2-di(furan-2-yl)-2-hydroxyethanone
[552-86-3]
is a white crystalline solid with the melting point of 136-137 °C.
[1]
It can be produced from furfural via benzoin condensation in presence of cyanide ion
[2]
or N-heterocyclic carbene catalyst as various thiazolium and imidazolium ions.
[3]
They can be further supported as a recyclable precatalysts, which upon treatment with a base, catalyze furfural self-condensation coupling reaction into furoin.
[4]
Furoin synthesis from furfural is also catalyzed by vitamin B1 (thiamine). In 1957, Ronald Breslow proposed the mechanism of reaction that involves a relatively stable carbene form of thiamine, which was the first evidence for the existence of persistent carbenes.
[5]
Application of Furoin:
Furoin can be used in synthesis of pyrazine and quanoxiline derivatives by condensation with diamines.
[6]
Different tetrasubstituted pyroles can be prepared from furoin as α-hydroxy ketone via a base-promoted three-component reaction with malononitrile and alcohols
[7]
or 1,3-dicarbonyls and ammonium acetate.
[8]
Product categorization (Chemical groups):
Main category:
[1]
L. Myles, N. Gathergood, S. J. Connon
Chem. Commun.
2013
,
49
, 5316.
doi:10.1039/C3CC41588K
[2]
W. W. Hartman, J. B. Dickey
J. Am. Chem. Soc.
1933
,
55
(3), 1228.
doi:10.1021/ja01330a063
[3]
H. Sugimoto, K. Hirai
Tetrahedron Lett.
1985
,
26
(7), 883.
doi:10.1016/S0040-4039(00)61955-X
[4]
L. Wang, E. Y. X. Chen
Green. Chem.
2015
,17
, 5149.
doi:10.1039/C5GC01648G
[5]
R. Breslow
J. Am. Chem. Soc.
1958
,
80
(14), 3719.
doi:10.1021/ja01547a064
[6]
W. Song, P. Liu, H. You, X. Chen, H. Chen, L. Ma, L. Hu
Synth. Commun.
2012
,
42
(2), 236.
doi:10.1080/00397911.2010.523489
[7]
H. Liu, C. Qi, L. Wang, Y. Guo, D. Li, H. Jiang
J. Org. Chem.
2021
,
86
, 9610.
doi:0.1021/acs.joc.1c00882
[8]
S. I. Bjat, D. R. Trivedi
Tetrahderon Lett.
2013
,
54
(41), 5577.
doi:10.1016/j.tetlet.2013.07.153