En stock
Maleimide
Formule moléculaire
C4H3NO2
Synonymes
3-pyrroline-2,5-dion ; 2,5-Pyrroledione ; 2,5-Dioxo-3-pyrroline ; 1H-Pyrrole-2,5-dione ; 2,5-dihydro-1H-pyrrole-2,5-dione ; Maleic imide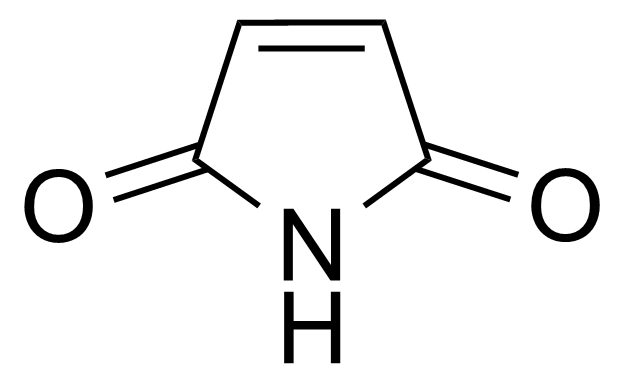 Informations réglementaires
Informations de transport
CORROSIVE SOLID, TOXIC, N.O.S. UN2923 8 (6.1)/ PG III
SGH Pictogrammes de Danger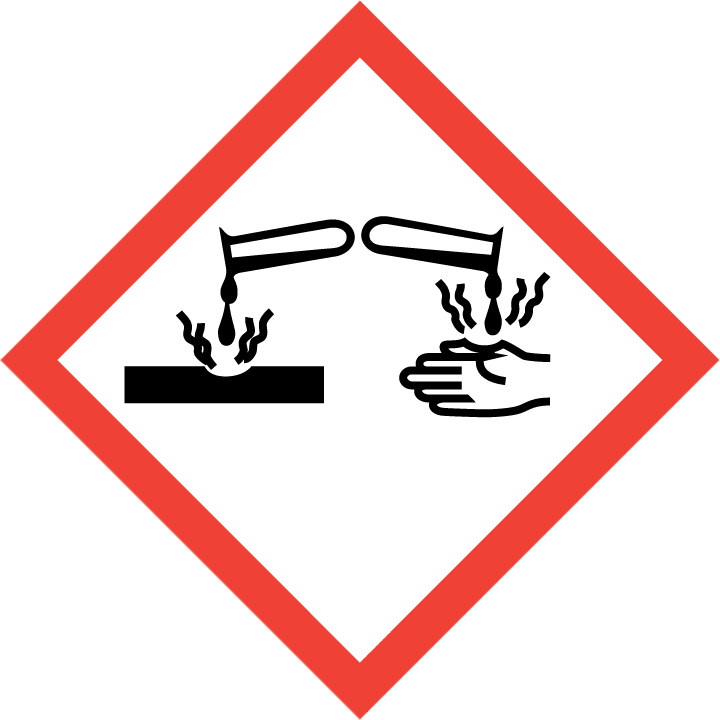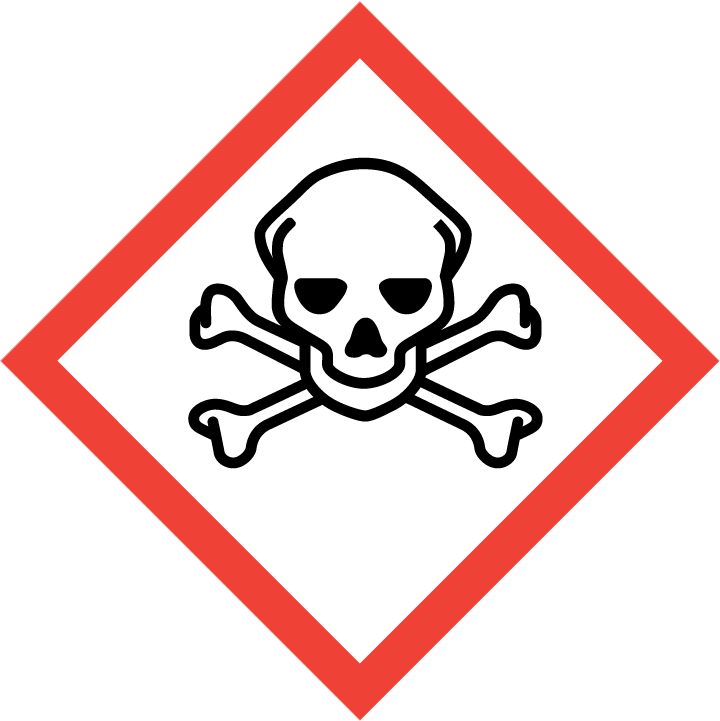 Mention d'avertissement
Danger
Mention de danger
H301 - H312 - H314 - H317 - H318 - H332
H301 – Toxique en cas d'ingestion.
H312 – Nocif par contact cutané.
H314 – Provoque des brûlures de la peau et des lésions oculaires graves.
H317 – Peut provoquer une allergie cutanée.
H318 – Provoque des lésions oculaires graves.
H332 – Nocif par inhalation.
Conseils de prudence
P261 - P280 - P310 - P301+310 - P301+330+331 - P302+352 - P304+340 - P305+351+338
P261 – Éviter de respirer les poussières/fumées/gaz/brouillards/vapeurs/aérosols.
P280 – Porter des gants de protection/des vêtements de protection/un équipement de protection des yeux/du visage.
P310 – Appeler immédiatement un CENTRE ANTIPOISON ou un médecin.
P301+310 – EN CAS D'INGESTION: appeler immédiatement un CENTRE ANTIPOISON ou un médecin.
P301+330+331 – EN CAS D'INGESTION: rincer la bouche. NE PAS faire vomir.
P302+352 – EN CAS DE CONTACT AVEC LA PEAU: laver abondamment à l'eau et au savon.
P304+340 – EN CAS D'INHALATION: transporter la victime à l'extérieur et la maintenir au repos dans une position où elle peut confortablement respirer.
P305+351+338 – EN CAS DE CONTACT AVEC LES YEUX: rincer avec précaution à l'eau pendant plusieurs minutes. Enlever les lentilles de contact si la victime en porte et si elles peuvent être facilement enlevées. Continuer à rincer.
Catégorisation des produits
Description
Maleimide est un composé chimique utile avec une variété d'utilisations de recherche. Nous sommes heureux d'offrir des Maleimide de haute qualité dans différentes tailles (pour la recherche, l'échelle pilote ou les applications de production) du milligramme aux lots de plusieurs kilogrammes, ce qui vous permet de sélectionner facilement la bonne quantité pour vos besoins.
Afficher la description complète
Unfortunately, this article is currently only in English language. We are working on a translation. Thank you for understanding.
General description and preparation of Maleimide:
Maleimide
[541-59-3] or 2,5-Pyrroledione
is a unsaturated imide which name is a contraction of maleic acid and imide. It is a white crystalline solid with the melting point of 92-93 °C.
[1]
Maleimide can be synthesized via thermal decomposition of
N
-carbamoylmaleimide formed by reaction of maleic anhydride with urea.
[2]
In general, maleimides are produced by ring-closure imidation of various maleinamic acids in an organic solvent capable of forming an azeotrope with water in the presence of an acid catalyst and metal-containing compound (zinc acetate) as a promoter.
[3]

Application of Maleimide:
Maleimide is versatile building block in organic synthesis. A special feature of the reactivity of maleimides is their susceptibility to additions across the double bond either by Michael additions or via Diels-Alder reactions. Natural maleimide derivatives (ferinomalein, showdomycin, pencolide, turrapubesin) with the promising biological activities were isolated from bacteria and fungi.
[4]
Recently, maleimide,
N-ethylmaleimide
, N-methylmaleimide and N-phenylmaleimide have attracted the interest due to the cytotoxicity toward tumor cell lines through the inhibition of human topoisomerase II.
[5]
Maleimide-mediated methodologies are among the most used in bioconjugation.
[6]
Maleimide-functionalised polymers and liposomes exhibit enhanced ability to adhere to mucosal surfaces (mucoadhesion) due to the reactions with thiol-containing mucins.
[7]
Product categorization (Chemical groups):
Main category:
[1]
P. O. Tawney, R. H. Snyder, R. P. Cogner, K. A. Liebbrand, C. H. Stiteler, A. R. Williams
J. Org. Chem.
1961
,
26
(1), 15.
doi:10.1021/jo01060a004
[2]
P. O. Tawney, R. H. Snyder, C. E. Bryan, R. P. Cogner, F. S. Dovell, R. J. Kelly, C. H. Stiteler
J. Org. Chem.
1960
,
25
(1), 56.
doi:10.1021/jo01071a017
[3]
Y. Kita, K. Sakamoto, M. Baba, A. Okubo
Method for production of maleimides
1985
,
Nippon Shokubai Co Ltd
.
EP0165574A2
.
[4]
S. P. Putri, H. Kinoshita, F. Ihara, Y. Igarashi, T. Nihira
J. Nat. Prod.
2009
,
72
, 1544.
doi:10.1021/np9002806
[5]
L. H. Jensen, A. Rondon-Corniere, I. Wessel, S. W. Langer, B. Søkilde, E. V. Carstensen, M. Sehested, P. B. Jensen
Mol. Pharmacol.
2002
,
61
(5), 1235.
doi:10.1124/mol.61.5.1235
[6]
O. Koniev, A. Wagner
Chem. Soc. Rev.
2015
,
44
, 5495.
doi:10.1039/C5CS00048C
[7]
D. B. Kaldybekov, P. Tonglairoum, P. Opanasopit, V. V. Khutoryanskiy
Eur. J. Pharm. Sci.
2018
,
111
, 83.
doi:10.1016/j.ejps.2017.09.039