Auf Lager
Maleimide
Synonyme
3-pyrroline-2,5-dion ; 2,5-Pyrroledione ; 2,5-Dioxo-3-pyrroline ; 1H-Pyrrole-2,5-dione ; 2,5-dihydro-1H-pyrrole-2,5-dione ; Maleic imide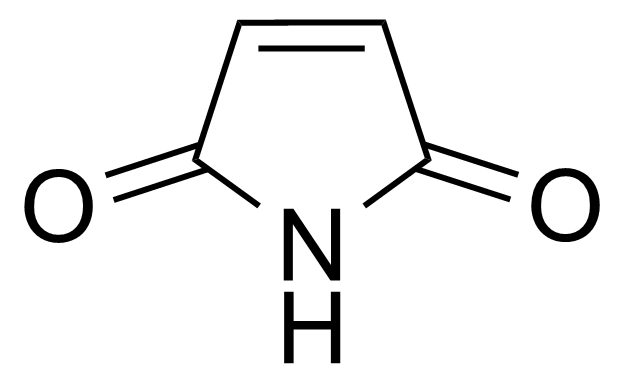 Für weitere Informationen oder eine Anfrage senden Sie uns bitte eine E-Mail oder nutzen Sie unser Kontaktformular
Regulatorische Informationen
Angaben zum Transport
CORROSIVE SOLID, TOXIC, N.O.S. UN2923 8 (6.1)/ PG III
Piktogramm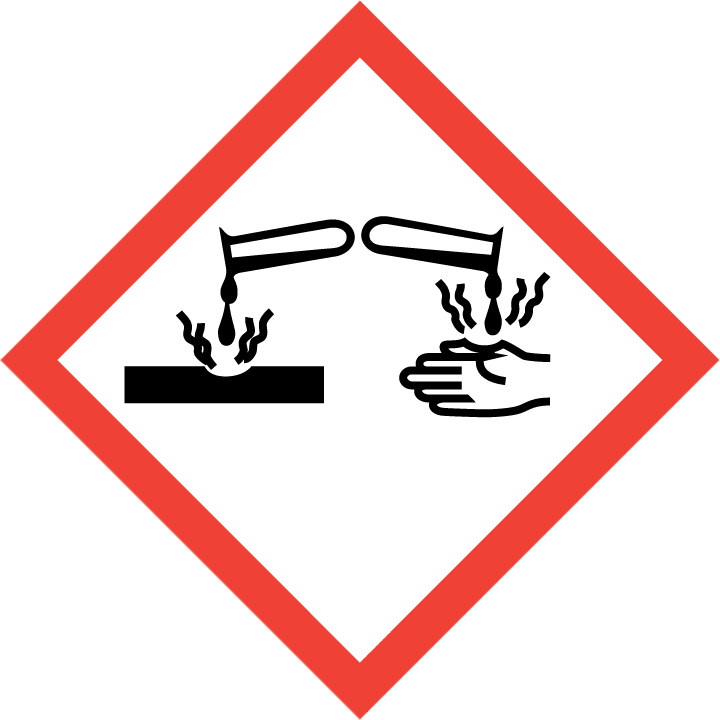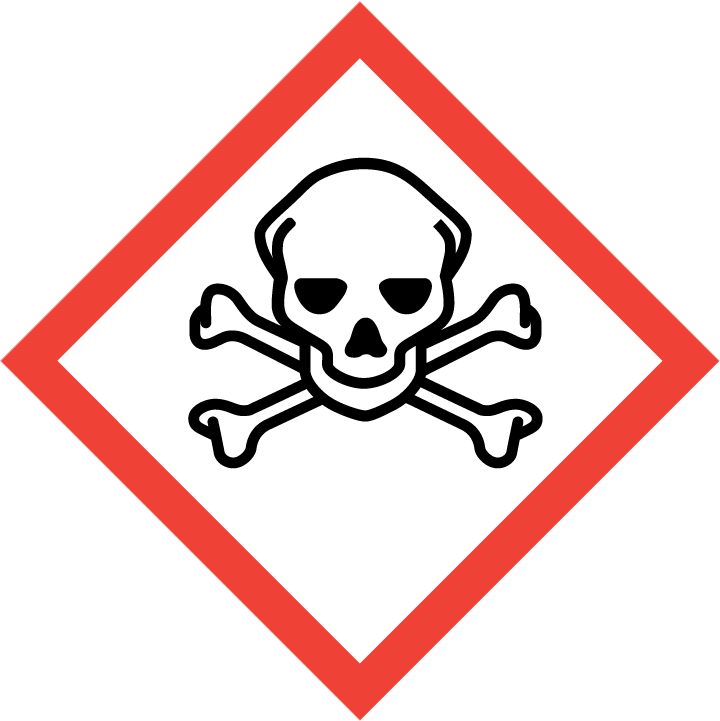 Gefahrenbezeichnung
H301 - H312 - H314 - H317 - H318 - H332
H301 – Giftig bei Verschlucken.
H312 – Gesundheitsschädlich bei Hautkontakt.
H314 – Verursacht schwere Verätzungen der Haut und schwere Augenschäden.
H317 – Kann allergische Hautreaktionen verursachen.
H318 – Verursacht schwere Augenschäden.
H332 – Gesundheitsschädlich bei Einatmen.
Vorsichtsmaßnahmen
P261 - P280 - P310 - P301+310 - P301+330+331 - P302+352 - P304+340 - P305+351+338
P261 – Einatmen von Staub/Rauch/Gas/Nebel/Dampf/Aerosol vermeiden.
P280 – Schutzhandschuhe/Schutzkleidung/Augenschutz/Gesichtsschutz tragen.
P310 – Sofort GIFTINFORMATIONSZENTRUM oder Arzt anrufen.
P301+310 – BEI VERSCHLUCKEN: Sofort GIFTINFORMATIONSZENTRUM oder Arzt anrufen.
P301+330+331 – BEI VERSCHLUCKEN: Mund ausspülen. KEIN Erbrechen herbeiführen.
P302+352 – BEI KONTAKT MIT DER HAUT: Mit viel Wasser und Seife waschen.
P304+340 – BEI EINATMEN: An die frische Luft bringen und in einer Position ruhigstellen, die das Atmen erleichtert.
P305+351+338 – BEI KONTAKT MIT DEN AUGEN: Einige Minuten lang behutsam mit Wasser spülen. Vorhandene Kontaktlinsen nach Möglichkeit entfernen. Weiter spülen.
Beschreibung
Maleimide ist eine nützliche chemische Verbindung mit vielfältigen Forschungsanwendungen. Wir freuen uns, qualitativ hochwertige Maleimide in verschiedenen Größen (für Forschungs-, Pilotmaßstabs- oder Produktionsanwendungen) von Milligramm- bis Multi-Kilogramm-Chargen anbieten zu können, sodass Sie ganz einfach die richtige Menge für Ihre Bedürfnisse auswählen können.
Vollständige Beschreibung anzeigen
Unfortunately, this article is currently only in English language. We are working on a translation. Thank you for understanding.
General description and preparation of Maleimide:
Maleimide
[541-59-3] or 2,5-Pyrroledione
is a unsaturated imide which name is a contraction of maleic acid and imide. It is a white crystalline solid with the melting point of 92-93 °C.
[1]
Maleimide can be synthesized via thermal decomposition of
N
-carbamoylmaleimide formed by reaction of maleic anhydride with urea.
[2]
In general, maleimides are produced by ring-closure imidation of various maleinamic acids in an organic solvent capable of forming an azeotrope with water in the presence of an acid catalyst and metal-containing compound (zinc acetate) as a promoter.
[3]

Application of Maleimide:
Maleimide is versatile building block in organic synthesis. A special feature of the reactivity of maleimides is their susceptibility to additions across the double bond either by Michael additions or via Diels-Alder reactions. Natural maleimide derivatives (ferinomalein, showdomycin, pencolide, turrapubesin) with the promising biological activities were isolated from bacteria and fungi.
[4]
Recently, maleimide,
N-ethylmaleimide
, N-methylmaleimide and N-phenylmaleimide have attracted the interest due to the cytotoxicity toward tumor cell lines through the inhibition of human topoisomerase II.
[5]
Maleimide-mediated methodologies are among the most used in bioconjugation.
[6]
Maleimide-functionalised polymers and liposomes exhibit enhanced ability to adhere to mucosal surfaces (mucoadhesion) due to the reactions with thiol-containing mucins.
[7]
Product categorization (Chemical groups):
Main category:
[1]
P. O. Tawney, R. H. Snyder, R. P. Cogner, K. A. Liebbrand, C. H. Stiteler, A. R. Williams
J. Org. Chem.
1961
,
26
(1), 15.
doi:10.1021/jo01060a004
[2]
P. O. Tawney, R. H. Snyder, C. E. Bryan, R. P. Cogner, F. S. Dovell, R. J. Kelly, C. H. Stiteler
J. Org. Chem.
1960
,
25
(1), 56.
doi:10.1021/jo01071a017
[3]
Y. Kita, K. Sakamoto, M. Baba, A. Okubo
Method for production of maleimides
1985
,
Nippon Shokubai Co Ltd
.
EP0165574A2
.
[4]
S. P. Putri, H. Kinoshita, F. Ihara, Y. Igarashi, T. Nihira
J. Nat. Prod.
2009
,
72
, 1544.
doi:10.1021/np9002806
[5]
L. H. Jensen, A. Rondon-Corniere, I. Wessel, S. W. Langer, B. Søkilde, E. V. Carstensen, M. Sehested, P. B. Jensen
Mol. Pharmacol.
2002
,
61
(5), 1235.
doi:10.1124/mol.61.5.1235
[6]
O. Koniev, A. Wagner
Chem. Soc. Rev.
2015
,
44
, 5495.
doi:10.1039/C5CS00048C
[7]
D. B. Kaldybekov, P. Tonglairoum, P. Opanasopit, V. V. Khutoryanskiy
Eur. J. Pharm. Sci.
2018
,
111
, 83.
doi:10.1016/j.ejps.2017.09.039