En stock
Acetohydroxamic acid
Ce produit n'est plus fabriqué, mais il nous reste encore un peu de stock.
Formule moléculaire
C2H5NO2
Synonymes
N-hydroxyacetamide
Informations réglementaires
SGH Pictogrammes de Danger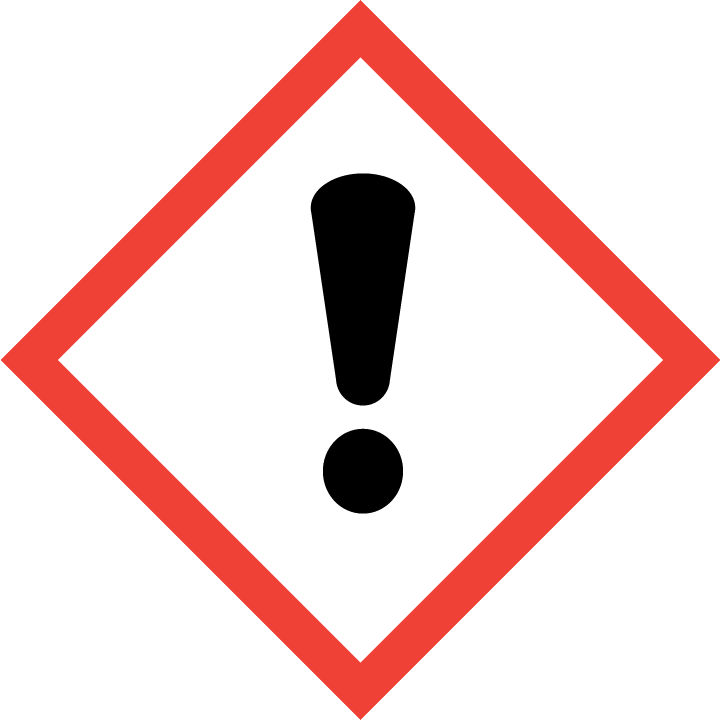 Mention d'avertissement
Attention
Mention de danger
H302 - H312 - H315 - H319 - H332 - H335
H302 – Nocif en cas d'ingestion.
H312 – Nocif par contact cutané.
H315 – Provoque une irritation cutanée.
H319 – Provoque une sévère irritation des yeux.
H332 – Nocif par inhalation.
H335 – Peut irriter les voies respiratoires.
Conseils de prudence
P261 - P280 - P301+312 - P302+352 - P305+351+338
P261 – Éviter de respirer les poussières/fumées/gaz/brouillards/vapeurs/aérosols.
P280 – Porter des gants de protection/des vêtements de protection/un équipement de protection des yeux/du visage.
P301+312 – EN CAS D'INGESTION: appeler un CENTRE ANTIPOISON ou un médecin en cas de malaise.
P302+352 – EN CAS DE CONTACT AVEC LA PEAU: laver abondamment à l'eau et au savon.
P305+351+338 – EN CAS DE CONTACT AVEC LES YEUX: rincer avec précaution à l'eau pendant plusieurs minutes. Enlever les lentilles de contact si la victime en porte et si elles peuvent être facilement enlevées. Continuer à rincer.
Catégorisation des produits
Description
Acetohydroxamic acid est un composé chimique utile avec une variété d'utilisations de recherche. Nous sommes heureux d'offrir des Acetohydroxamic acid de haute qualité dans différentes tailles (pour la recherche, l'échelle pilote ou les applications de production) du milligramme aux lots de plusieurs kilogrammes, ce qui vous permet de sélectionner facilement la bonne quantité pour vos besoins.
Afficher la description complète
Unfortunately, this article is currently only in English language. We are working on a translation. Thank you for understanding.
General description of Acetohydroxamic acid:
Acetohydroxamic acid (AHA) [546-88-3]
also known under trade names Lithostat (US) or Uronefrex (EU) is a compound, structurally similar to urea. In a pure form, it is a white crystalline solid with melting point of 90-91 °C.
[1]
The structure of the hydroxamic acids was first brought to the attention by W. Lossen in 1869.
[2]
Few years later he observed, apparently by accident, that thermal decomposition of hydroxamic acid led to the isocyanate. This reaction was later named after him as Lossen rearrangement.
[3]
The most general method of preparation is the reaction between ethylacetate or acetic anhydride and hydroxylamine in absolute alcohol. The reaction proceeds rapidly at room
temperature
, particularly in the presence of an equimolecular quantity of sodium alkoxide.
[4]
Alternatively, AHA can be prepared from acetyl chloride and hydroxylamine with sodium carbonate in ether/water.
[5]
Application of Acetohydroxamic acid:
Acetohydroxamic acid is a potent urease inhibitor of bacterial urease activity, especially
Helicobacter pylori
.
[6]
It was found to be useful in treating urinary tract infections by preventing urine alkalization. Although this compound had severe side effects, such as teratogenicity, psychoneurologic and musculo-integumentary symptoms, it was approved by the FDA in 1983 to treat chronic urea-splitting urinary infections.
[7]
It is used, in addition to antibiotics or medical procedures, to treat chronic urea-splitting urinary infections. It can be oxidized
in situ
to nitrosocarbonylmethane which reacts in Diels–Alder reaction with 1,3-dienes.
[5]
Acetohydroxamic acid is a good chelating agent for heavy metals
[8]
such as copper, iron, cobalt, nickel, chromium, manganese, uranium. It has been suggested as a partitioning agent for the separation of uranium and plutonium in nuclear fuel reprocessing.
[9]
Product categorization (Chemical groups):
Main category:
[1]
D. C. Berndt, H. Shechter
J. Org. Chem.
1964
,
29
, 916.
[2]
H. Lossen
Liebigs Ann. Chem.
1869
,
150
, 314.
[3]
H. L. Yale
Chem. Rev.
1943
,
33
, 209.
[4]
A. Miolati
Chem. Ber.
1892
,
25
, 700. H. Blatt,
Org. Synth.
1963
,
2
, John Wiley & Sons, New York, NY.
[5]
J. Fährmann, G. Hilt
Angew. Chem. Int. Ed.
2021
,
60
, 20313.
[6]
J. Goldie, S. J. O. Veldhuyzen van Zanten, S. Jalali, H. Richardson, R. H. Hunt
J. Clin. Pathol.
1991
,
44,
695.
[7]
P. Kosikowska, L. Berlicki
Expert Opin. Ther. Pat.
2011
,
21
, 945.
[8]
B. Chatterjee
Coord. Chem. Rev.
1978
,
26
, 281.
[9]
J. E. Birkett, M. J. Carrott, O. D. Fox, C. J. Jones, C. S. Maher, C. V. Roube, R. J. Taylor and D. A. Woodhead
J. Nucl. Sci. Technol.
2007
,
44
, 337.