Ethyl dichlorophosphate
Gefrierpunkt/Schmelzpunkt/Bereich (°C)
63-64
Synonyme
Dichlorophosphoric acid O-ethyl ester ; Ethyl phosphorodichloridate ; ethoxyphosphonoyl dichloride ; Dichloroethoxyphosphine oxide
Für weitere Informationen oder eine Anfrage senden Sie uns bitte eine E-Mail oder nutzen Sie unser Kontaktformular
Regulatorische Informationen
Angaben zum Transport
TOXIC LIQUID, CORROSIVE, ORGANIC, N.O.S. UN2927 6.1 (8)/ PG II
Piktogramm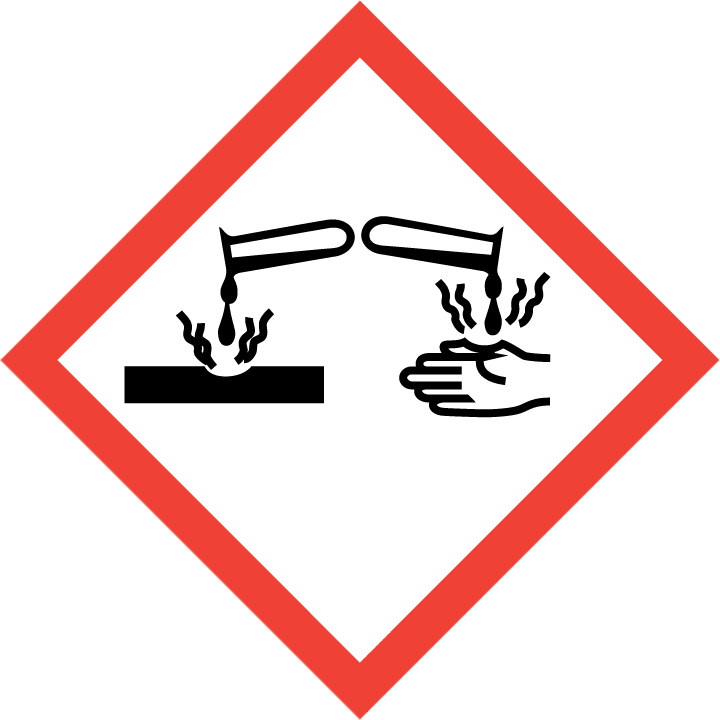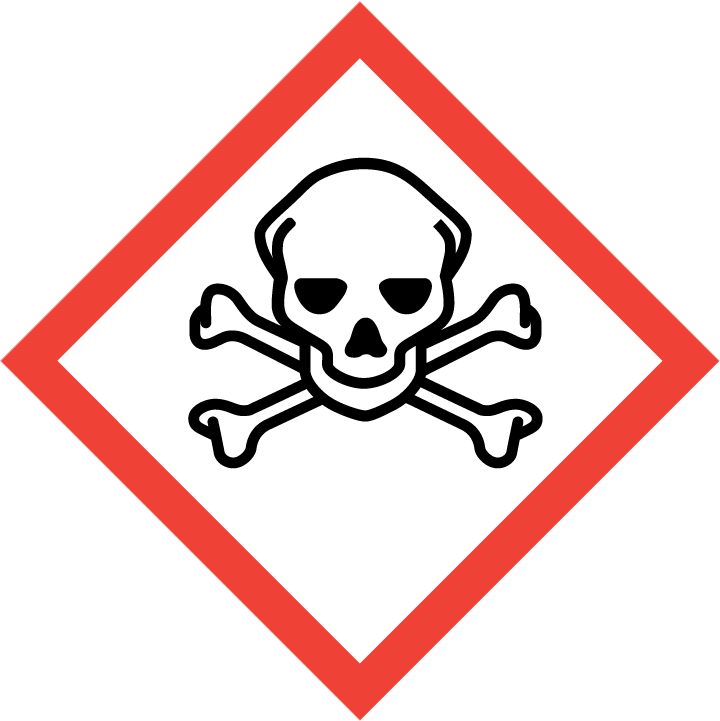 Gefahrenbezeichnung
H301 - H311 - H314 - H330
H301 – Giftig bei Verschlucken.
H311 – Giftig bei Hautkontakt.
H314 – Verursacht schwere Verätzungen der Haut und schwere Augenschäden.
H330 – Lebensgefahr bei Einatmen.
Vorsichtsmaßnahmen
P260 - P280 - P312 - P301+310 - P301+330+331 - P302+350 - P304+340 - P305+351+338 - P312
P260 – Staub/Rauch/Gas/Nebel/Dampf/Aerosol nicht einatmen.
P280 – Schutzhandschuhe/Schutzkleidung/Augenschutz/Gesichtsschutz tragen.
P301+310 – BEI VERSCHLUCKEN: Sofort GIFTINFORMATIONSZENTRUM oder Arzt anrufen.
P301+330+331 – BEI VERSCHLUCKEN: Mund ausspülen. KEIN Erbrechen herbeiführen.
P302+350 – BEI KONTAKT MIT DER HAUT: Behutsam mit viel Wasser und Seife waschen.
P304+340 – BEI EINATMEN: An die frische Luft bringen und in einer Position ruhigstellen, die das Atmen erleichtert.
P305+351+338 – BEI KONTAKT MIT DEN AUGEN: Einige Minuten lang behutsam mit Wasser spülen. Vorhandene Kontaktlinsen nach Möglichkeit entfernen. Weiter spülen.
P312 – Bei Unwohlsein GIFTINFORMATIONSZENTRUM oder Arzt anrufen.
Beschreibung
Ethyl dichlorophosphate ist eine nützliche chemische Verbindung mit vielfältigen Forschungsanwendungen. Wir freuen uns, qualitativ hochwertige Ethyl dichlorophosphate in verschiedenen Größen (für Forschungs-, Pilotmaßstabs- oder Produktionsanwendungen) von Milligramm- bis Multi-Kilogramm-Chargen anbieten zu können, sodass Sie ganz einfach die richtige Menge für Ihre Bedürfnisse auswählen können.
Vollständige Beschreibung anzeigen
Unfortunately, this article is currently only in English language. We are working on a translation. Thank you for understanding.
Ethyl dichlorophosphate
[1498-51-7]
or ethyl phosphorodichloridate is a colorless oily liquid with the boiling point of 58-62 °C/10 mmHg.
[1]
It is strongly irritating to skin and very toxic by ingestion, inhalation, or by skin absorption due to the inhibition of acetylcholinesterase (IC
50
 400 nm).
[2]
It can be easily prepared from phosphoryl chloride by treatment with 1 equivalent of ethanol in the presence of triethylamine.
[3]
Application of Ethyl dichlorophosphate:
It is a highly reactive electrophile suitable for important nucleophilic additions, it can be used in preparation of various  nucleoside phosphate and phosphonate prodrugs.
[4]
It was recently used as a starting material in the synthesis of phosphinanes and azaphosphinanes as potent and selective inhibitors of activated thrombin-activatable fibrinolysis inhibitor (TAFIa) as a promising therapeutic option to treat patients with pulmonary embolism or ischemic stroke by accelerating blood vessel recanalization and improving patient outcome.
[5]
Product categorization (Chemical groups):
Main category:
[1]
Z. J. He, Y. M. Wang, C. C. Tang
Phosphorus Sulfur Silicon Relat. Elem.
1997
,
127
(1)
,
59.
doi:10.1080/10426509708040496
[2]
Y. Segall, G. B. Quistad, S. E. Sparks, J. E. Casida
Chem. Res. Toxicol.
2003
,
16
(3), 350.
doi:10.1021/tx020094l
[3]
S. Jones, D. Selitsianos
Tetrahedron Asymmetry
,
2005
,
16
(18), 3128.
doi:10.1016/j.tetasy.2005.08.025
[4]
U. Pradere, E. C. Garnier-Amblard, S. J. Coats, F. Amblard, R. F. Schinazi
Chem. Rev.
2014
,
114
, 9154.
doi:10.1021/cr5002035
[5]
A. P. Schaffner, P. Sansilvestri-Morel, N. Despaux, E. Ruano, T. Persigand, A. Rupin, P. Mennecier, M. O. Vallez, E. Raimbaud, P. Desos, P. Gloanec
J. Med. Chem.
2021
,
64
(7), 3897.
doi:10.1021/acs.jmedchem.0c02072