Ethyl dichlorophosphate
Formule moléculaire
C2H5Cl2O2P
Point/plage de congélation/de fusion (°C)
63-64
Synonymes
Dichlorophosphoric acid O-ethyl ester ; Ethyl phosphorodichloridate ; ethoxyphosphonoyl dichloride ; Dichloroethoxyphosphine oxide
Informations réglementaires
Informations de transport
TOXIC LIQUID, CORROSIVE, ORGANIC, N.O.S. UN2927 6.1 (8)/ PG II
SGH Pictogrammes de Danger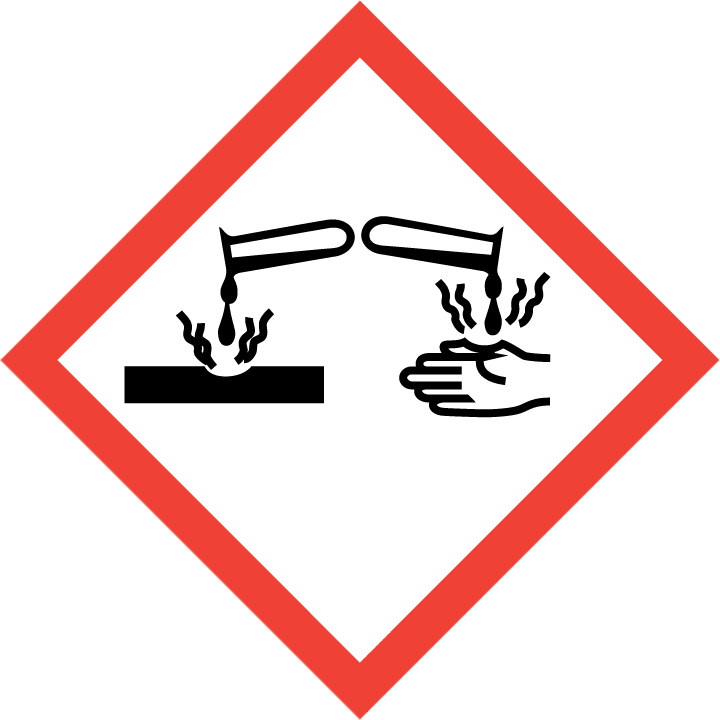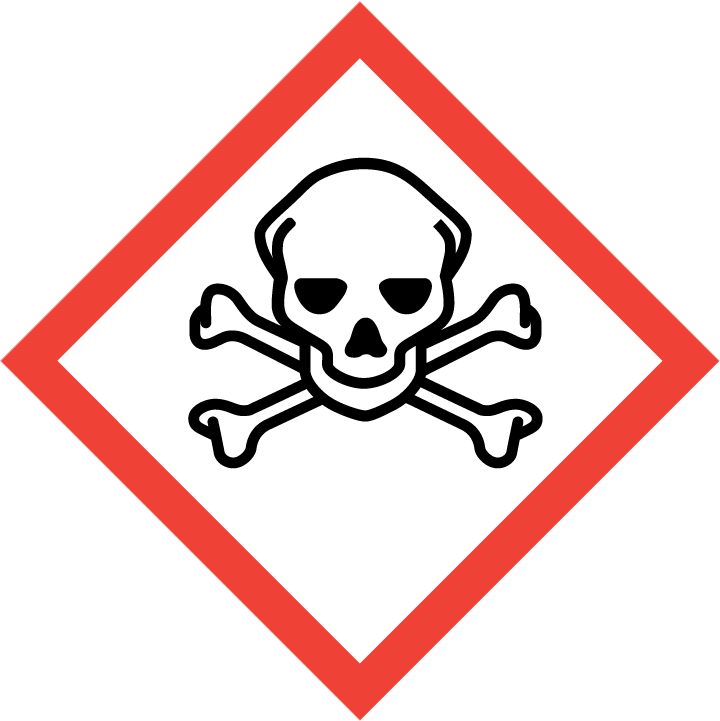 Mention d'avertissement
Danger
Mention de danger
H301 - H311 - H314 - H330
H301 – Toxique en cas d'ingestion.
H311 – Toxique par contact cutané.
H314 – Provoque des brûlures de la peau et des lésions oculaires graves.
H330 – Mortel par inhalation.
Conseils de prudence
P260 - P280 - P312 - P301+310 - P301+330+331 - P302+350 - P304+340 - P305+351+338 - P312
P260 – Ne pas respirer les poussières/fumées/gaz/brouillards/vapeurs/aérosols.
P280 – Porter des gants de protection/des vêtements de protection/un équipement de protection des yeux/du visage.
P301+310 – EN CAS D'INGESTION: appeler immédiatement un CENTRE ANTIPOISON ou un médecin.
P301+330+331 – EN CAS D'INGESTION: rincer la bouche. NE PAS faire vomir.
P302+350 – EN CAS DE CONTACT AVEC LA PEAU: laver avec précaution et abondamment à l'eau et au savon.
P304+340 – EN CAS D'INHALATION: transporter la victime à l'extérieur et la maintenir au repos dans une position où elle peut confortablement respirer.
P305+351+338 – EN CAS DE CONTACT AVEC LES YEUX: rincer avec précaution à l'eau pendant plusieurs minutes. Enlever les lentilles de contact si la victime en porte et si elles peuvent être facilement enlevées. Continuer à rincer.
P312 – Appeler un CENTRE ANTIPOISON ou un médecin en cas de malaise.
Catégorisation des produits
Description
Ethyl dichlorophosphate est un composé chimique utile avec une variété d'utilisations de recherche. Nous sommes heureux d'offrir des Ethyl dichlorophosphate de haute qualité dans différentes tailles (pour la recherche, l'échelle pilote ou les applications de production) du milligramme aux lots de plusieurs kilogrammes, ce qui vous permet de sélectionner facilement la bonne quantité pour vos besoins.
Afficher la description complète
Unfortunately, this article is currently only in English language. We are working on a translation. Thank you for understanding.
Ethyl dichlorophosphate
[1498-51-7]
or ethyl phosphorodichloridate is a colorless oily liquid with the boiling point of 58-62 °C/10 mmHg.
[1]
It is strongly irritating to skin and very toxic by ingestion, inhalation, or by skin absorption due to the inhibition of acetylcholinesterase (IC
50
 400 nm).
[2]
It can be easily prepared from phosphoryl chloride by treatment with 1 equivalent of ethanol in the presence of triethylamine.
[3]
Application of Ethyl dichlorophosphate:
It is a highly reactive electrophile suitable for important nucleophilic additions, it can be used in preparation of various  nucleoside phosphate and phosphonate prodrugs.
[4]
It was recently used as a starting material in the synthesis of phosphinanes and azaphosphinanes as potent and selective inhibitors of activated thrombin-activatable fibrinolysis inhibitor (TAFIa) as a promising therapeutic option to treat patients with pulmonary embolism or ischemic stroke by accelerating blood vessel recanalization and improving patient outcome.
[5]
Product categorization (Chemical groups):
Main category:
[1]
Z. J. He, Y. M. Wang, C. C. Tang
Phosphorus Sulfur Silicon Relat. Elem.
1997
,
127
(1)
,
59.
doi:10.1080/10426509708040496
[2]
Y. Segall, G. B. Quistad, S. E. Sparks, J. E. Casida
Chem. Res. Toxicol.
2003
,
16
(3), 350.
doi:10.1021/tx020094l
[3]
S. Jones, D. Selitsianos
Tetrahedron Asymmetry
,
2005
,
16
(18), 3128.
doi:10.1016/j.tetasy.2005.08.025
[4]
U. Pradere, E. C. Garnier-Amblard, S. J. Coats, F. Amblard, R. F. Schinazi
Chem. Rev.
2014
,
114
, 9154.
doi:10.1021/cr5002035
[5]
A. P. Schaffner, P. Sansilvestri-Morel, N. Despaux, E. Ruano, T. Persigand, A. Rupin, P. Mennecier, M. O. Vallez, E. Raimbaud, P. Desos, P. Gloanec
J. Med. Chem.
2021
,
64
(7), 3897.
doi:10.1021/acs.jmedchem.0c02072