Auf Lager
(E)-3-(3-Fluorophenyl)acrylic acid
Synonyme
3-(3-fluorophenyl)prop-2-enoic acid ; (E)-m-Fluorocinnamic acid ; 3-Fluorocinnamic acid ; ; trans-3-Fluorocinnamic acid ; trans-3-(3-Fluorophenyl)propenoic acid ; m-Fluorocinnamic acid
Für weitere Informationen oder eine Anfrage senden Sie uns bitte eine E-Mail oder nutzen Sie unser Kontaktformular
Regulatorische Informationen
Piktogramm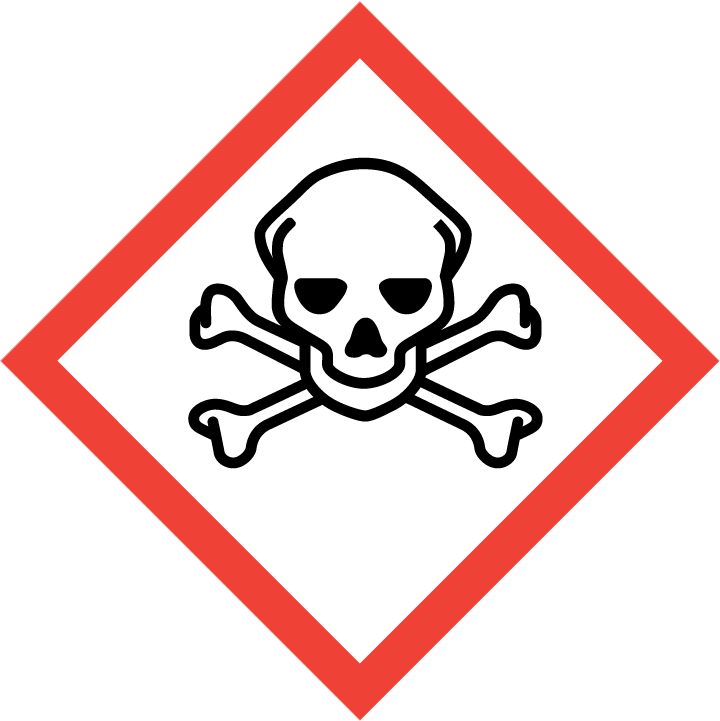 Gefahrenbezeichnung
H301 - H315 - H319 - H335
H301 – Giftig bei Verschlucken.
H315 – Verursacht Hautreizungen.
H319 – Verursacht schwere Augenreizung.
H335 – Kann die Atemwege reizen.
Vorsichtsmaßnahmen
P261 - P301+310 - P305+351+338
P261 – Einatmen von Staub/Rauch/Gas/Nebel/Dampf/Aerosol vermeiden.
P301+310 – BEI VERSCHLUCKEN: Sofort GIFTINFORMATIONSZENTRUM oder Arzt anrufen.
P305+351+338 – BEI KONTAKT MIT DEN AUGEN: Einige Minuten lang behutsam mit Wasser spülen. Vorhandene Kontaktlinsen nach Möglichkeit entfernen. Weiter spülen.
Beschreibung
(E)-3-(3-Fluorophenyl)acrylic acid ist eine nützliche chemische Verbindung mit vielfältigen Forschungsanwendungen. Wir freuen uns, qualitativ hochwertige (E)-3-(3-Fluorophenyl)acrylic acid in verschiedenen Größen (für Forschungs-, Pilotmaßstabs- oder Produktionsanwendungen) von Milligramm- bis Multi-Kilogramm-Chargen anbieten zu können, sodass Sie ganz einfach die richtige Menge für Ihre Bedürfnisse auswählen können.
Vollständige Beschreibung anzeigen
Unfortunately, this article is currently only in English language. We are working on a translation. Thank you for understanding.
General description of (E)-3-(3-Fluorophenyl)acrylic acid:
(E)-3-(3-Fluorophenyl)acrylic acid
[20595-30-6]
, 3-fluorocin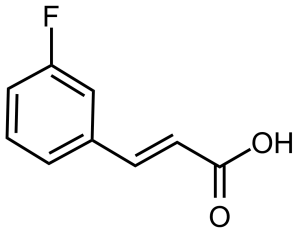 namic acid, or (2E)-3-(3-Fluorophenyl)-2-propenoic acid, is an organic acid belonging to acrylic acids group. In its pure form, it is a white crystalline solid with a melting point of 166,2-166,8 °C.
[1]
It is soluble in water and polar organic solvents. It is known that 3-fluorocinnamic acid can cause serious damage if swallowed and can be irritating in contact with skin or eyes (H301, H315, H319).
[2]
Preparation:
3-Fluorocinnamic acid can be prepared by Knowenagel-Doebner reaction of malonic acid or malonic ester with corresponding aldehyde.
[3]
It is also formed as side product in kinetic resolution of β-phenylalanine derivatives via selective conversion of a single enantiomer to the corresponding acrylic acid.
[4]
Recent research also showed that it can be prepared by Suzuki coupling of corresponding boronic acid with carbon dioxide.
[5]
_______________________________________________________________________
[1]
R. Fuchs, J. J. Bloomfield
J. Org. Chem.
1966
, 10, 3423 – 3425. Doi: 10.1021/jo01348a517.
[2]
https://echa.europa.eu/information-on-chemicals/cl-inventory-database/-/discli/notification-details/29188/647793
[3]
(a) W. Szymanski, B. Wu, B. Weiner, S. de Wildeman, B. L. Feringa, D. B. Janssen,
J. Org. Chem.
2009
, 74, 9152–9157; Doi:
10.1021/jo901833y
. (b) G. Schieniann, W. Winkelmüller J. prakt. Chem.
1932
, 325, 101 – 107. Doi:
10.1002/prac.19321350303
. (c) J. Luo, S. L. Castle, R. N. Castle,
J. Heterocyclic. Chem.
1990
, 27, 2047. Doi: 
10.1002/jhet.5570270737
. (d) L. Tan, Q. Zhou, W. Yan, J. Sun, A. P. Kozikowski, S. Zhao, X. Huang, J. Cheng,
J. Med. Chem.
2020
, 63, 4579 – 4602. Doi:
10.1021/acs.jmedchem.9b01835
.
[4]
(a) A. Varga, P. Csuko, O. Sonesouphap, G. Bánóczi, M. I. Tosa, G. Katona, Z. Molnar, L. C. Bencze, L. Poppe, C. Paizs,
Catal. Today
2021
, 366, 185 – 194. Doi:
10.1016/j.cattod.2020.04.002
. (b) I. Rowles, B. Groenendaal, B. Binay, K. J. Malone, S. C. Willies, N. J. Turner,
Tetrahedron
,
2016
, 46, 7343-7347. Doi:
10.1016/j.tet.2016.06.026
. (c)
A. Varga
,   
G. Bánóczi
, 
B. Nagy
, 
L. C. Bencze
, 
M. I. Toşa
, 
Á. Gellért
, 
F. D. Irimie
, 
J. Rétey
, 
L. Poppe
, 
C. Paizs
,
RSC. Adv.
2016
, 61, 1 – 9. Doi:
10.1039/c6ra02964g
.
[5]
J. Hong, O. S. Nayal, F. Mo,
Eur. J. Org. Chem.
2020
, 19, 2813 – 2818. Doi:
10.1002/ejoc.202000288
.