Diethyl chlorophosphate
Synonyme
Diethylphosphoryl chloride ; Diethyl chlorophosphonate ; O,O-Diethyl phosphorochloridate ; Phosphoric acid diethyl ester chloride ; Phosphorochloridic acid O,O-diethyl ester ; Diethyl phosphorochloridate
Für weitere Informationen oder eine Anfrage senden Sie uns bitte eine E-Mail oder nutzen Sie unser Kontaktformular
Regulatorische Informationen
Dieses Produkt ist nicht klassifiziert.
Beschreibung
Diethyl chlorophosphate ist eine nützliche chemische Verbindung mit vielfältigen Forschungsanwendungen. Wir freuen uns, qualitativ hochwertige Diethyl chlorophosphate in verschiedenen Größen (für Forschungs-, Pilotmaßstabs- oder Produktionsanwendungen) von Milligramm- bis Multi-Kilogramm-Chargen anbieten zu können, sodass Sie ganz einfach die richtige Menge für Ihre Bedürfnisse auswählen können.
Vollständige Beschreibung anzeigen
Unfortunately, this article is currently only in English language. We are working on a translation. Thank you for understanding.
General description of Diethyl chlorophosphate: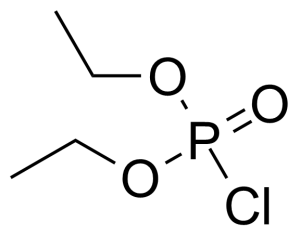 Diethyl chlorophosphate [814-49-3]
or diethyl phosphorochloridate is a colorless to faith yellow clear liquid with the fruity odor and the boiling point of 60 °C/2 mmHg.
[1]
It acts as an cholinesterase inhibitor. It has high oral (LD
50
= 11 mg/kg, rat) and very high dermal toxicity (LD
50
= 8  μL/kg, rabbit), it is also toxic by inhalation.
[2]
This compound is typically prepared by the chlorination of diethylphosphite with carbon tetrachloride, which is called Atherton–Todd reaction.
[3]
Another option of preparation is reaction of phosphoryl chloride with ethanol in the presence of triethylamine.
[4]
Application of Diethyl chlorophosphate:
By using this substance, some ketones can be converted to enol phosphates which can be reduced to alkenes/alkanes or coupled with organometallic reagents to form substituted alkenes. Following enol phosphates can be then converted into β-keto phosphonates, useful for Horner-Emmons homologation.
[5]
It is also used in the synthesis of organophosphorus nerve agent mimics.
[6]
Phosphoroamidate linkages are found in a large array of biologically active natural products for example Microcin C7, Dinogunellin, Phosphoarginine, Phosphocreatine, Phosphoramidon, Phosmidosine and Agrocin.
[7]
Product categorization (Chemical groups):
Main category:
[1]
    M. A. Insalaco, D. S. Tarbell
Org. Synth.
1970
,
50
, 9.
[2]
    H. F. Smyth, Ch. P. Carpenter, C. S. Well, U. C. Pozzani, J. A. Striegel
Am. Ind. Hyg. Assoc. J.
1962
,
23
, 95.
[3]
    G. M. Steinberg
J. Org. Chem.
1950
,
15
, 637.
[4]
    G. Cahiez, O. Guerret, A. Moyeux, S. Dufour, N. Lefevre
Org. Process Res. Dev.
2017
,
21
, 1542.
[5]
    J. R. Young
e-EROS Encyclopedia of Reagents for Organic Synthesis
2001
, John Wiley & Sons, Ltd.,
[6]
    T. J. Dale, J. Rebek
J. Am. Chem. Soc.
2006
,
128
, 4500.
[7]
    E. J. Itumoh, S. Data, E. M. Leitao
Molecules
2020
,
25
, 3684.