En stock
Benzene-1,3-disulfonyl chloride
Formule moléculaire
C6H4Cl2O4S2
Synonymes
1,3-Benzenedisulfonyl dichloride ; 3-Chlorosulfonylbenzenesulfonyl chloride ; m-Benzenedisulfonyl chloride ; m-Benzenedisulfonyl dichloride ; m-Phenylenedisulfonyl chloride ; 1,3-Benzenedisulfonyl chloride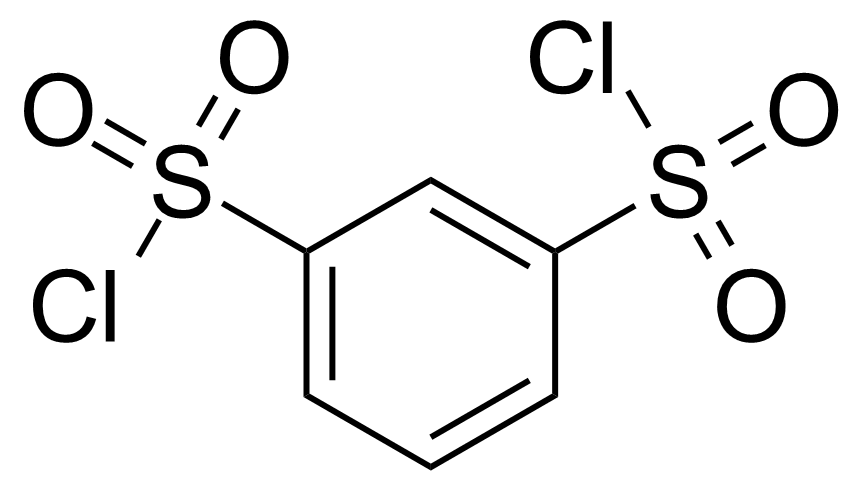 Informations réglementaires
Informations de transport
CORROSIVE SOLID, ACIDIC, ORGANIC, N.O.S. UN3261 8/ PG II
SGH Pictogrammes de Danger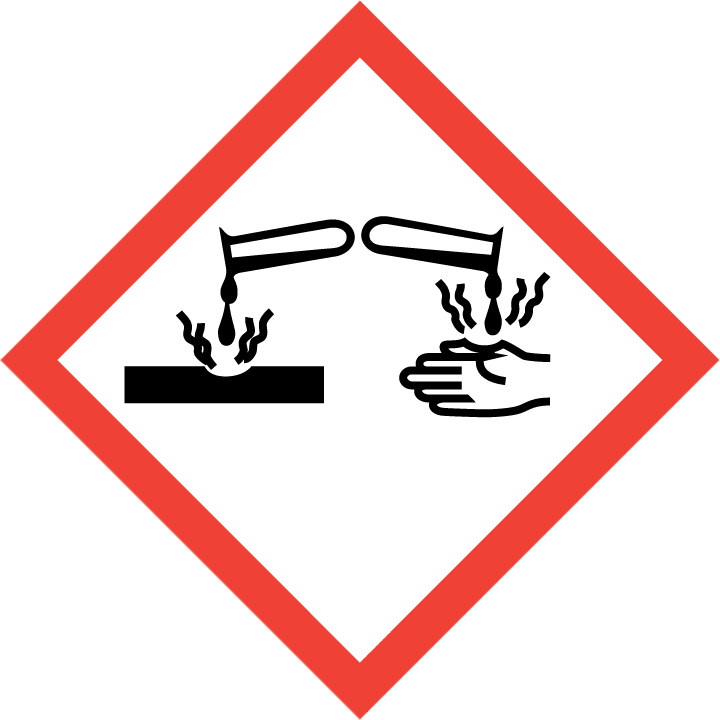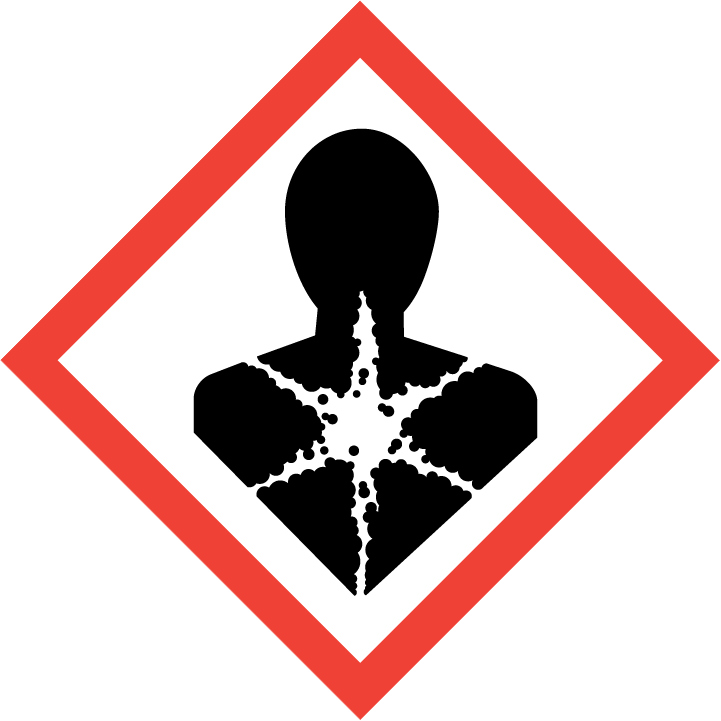 Mention d'avertissement
Danger
Mention de danger
H314 - H317 - H334
H314 – Provoque des brûlures de la peau et des lésions oculaires graves.
H317 – Peut provoquer une allergie cutanée.
H334 – Peut provoquer des symptômes allergiques ou d'asthme ou des difficultés respiratoires par inhalation.
Conseils de prudence
P261 - P280 - P305+351+338 - P310
P261 – Éviter de respirer les poussières/fumées/gaz/brouillards/vapeurs/aérosols.
P280 – Porter des gants de protection/des vêtements de protection/un équipement de protection des yeux/du visage.
P310 – Appeler immédiatement un CENTRE ANTIPOISON ou un médecin.
P305+351+338 – EN CAS DE CONTACT AVEC LES YEUX: rincer avec précaution à l'eau pendant plusieurs minutes. Enlever les lentilles de contact si la victime en porte et si elles peuvent être facilement enlevées. Continuer à rincer.
Catégorisation des produits
Description
Benzene-1,3-disulfonyl chloride est un composé chimique utile avec une variété d'utilisations de recherche. Nous sommes heureux d'offrir des Benzene-1,3-disulfonyl chloride de haute qualité dans différentes tailles (pour la recherche, l'échelle pilote ou les applications de production) du milligramme aux lots de plusieurs kilogrammes, ce qui vous permet de sélectionner facilement la bonne quantité pour vos besoins.
Afficher la description complète
Unfortunately, this article is currently only in English language. We are working on a translation. Thank you for understanding.
General description:
Benzene-1,3-disulfonyl chloride (BDD) [585-47-7]
or 1,3-benzenedisulfonyl chloride is dichloride of 1,3-benzenedisulfonic acid. It is a colorless (white) crystalline solid with the melting point of 59-62 °C.
[1]
It is soluble in common organic solvents. Compound is sensitive to moisture and reacts in water therefore should be stored in dry conditions. It has corrosive properties and can cause severe skin burns and eye damage. Convenient laboratory preparation is based on chlorination of appropriate disodium salt using phosphorus chloride
[1]
or thionyl chloride
[2]
. Alternative method starts with 1,3-benzenedithiol, which reacts with chlorine in acetic acid.
[3]
Application of Benzene-1,3-disulfonyl chloride:
1,3-Benzenedisulfonyl chloride is useful reagent in organic chemistry for the preparation of pharmaceutical intermediates.
[4]
It was used in the synthesis of isonitriles as dehydration agent of formamides.
[2]
Benzene-1,3-disulfonyl chloride is commonly used in the synthesis of biological active sulfonamides
[5]
and in the preparation of composite polysulfonamide membranes.
[6]
Product categorization (Chemical groups):
Main category:
[1]
Ch. J. Smedley, A. S. Barrow, Ch. Spiteri, M. C. Giel, P. Sharma, J. E. Moses
Chem. Eur. J. 
2017
,
23
, 9990.
[2]
R. Ghorbani-Vaghei, M. Amiri, H. Veisi
Lett. Org. Chem.
2013
,
10
, 37.
[3]
Th. Zincke, O. Kruger
Chemische Berichte
1912
,
45
, 3468.
[4]
A. M. Almerico, A. Campofelice, G. Culletta, L. Lentini, R. Melfi, A. Pace, R. Perriera, I. Pibiri, M. Tutone
ACS Med. Chem. Lett.
2020
,
11
, 747.
[5]
S. Alavinia, J. Babamoradi, R. Ghorbani-Vaghei
RSC Advances
2021
,
11
, 19147.
[6]
B.E. Ali, P. Majid, J. Mohsen, H. Hamzeh
Chem. Eng. Res. Des.
2020
,
155
, 172.