Levulinic acid
Synonyme
4-Oxopentanoic acid ; 4-Oxovaleric acid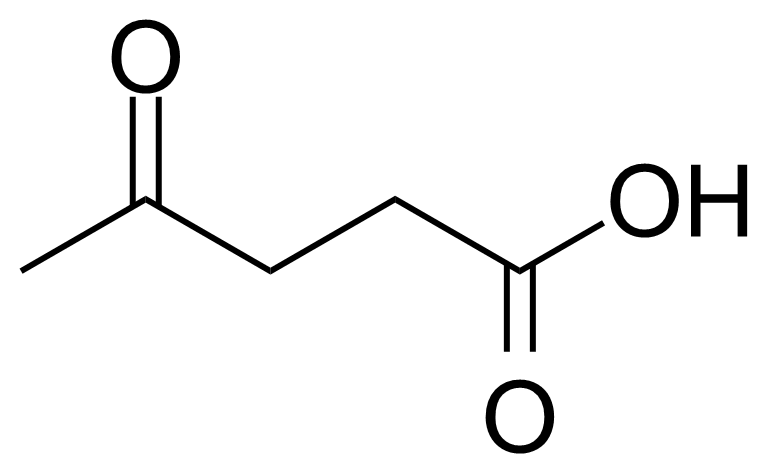 Für weitere Informationen oder eine Anfrage senden Sie uns bitte eine E-Mail oder nutzen Sie unser Kontaktformular
Regulatorische Informationen
Dieses Produkt ist nicht klassifiziert.
Beschreibung
Levulinic acid ist eine nützliche chemische Verbindung mit vielfältigen Forschungsanwendungen. Wir freuen uns, qualitativ hochwertige Levulinic acid in verschiedenen Größen (für Forschungs-, Pilotmaßstabs- oder Produktionsanwendungen) von Milligramm- bis Multi-Kilogramm-Chargen anbieten zu können, sodass Sie ganz einfach die richtige Menge für Ihre Bedürfnisse auswählen können.
Vollständige Beschreibung anzeigen
Unfortunately, this article is currently only in English language. We are working on a translation. Thank you for understanding.
General description and preparation:
Levulinic acid, or 4-oxo-pentanoic acid, or b-acetylpropionic acid, or g-ketovaleric acid
[123-76-2]
is an organic acid belonging to keto acids group. In its pure form, it is a white crystalline solid with melting point of 33 °C.
[1]
It is soluble in water and polar organic solvents. Despite its low toxicity (LD
50
1850 mg/Kg, oral, rat), as other acids, it can cause the acid burns and high concentrated solutions are irritating to the skin and mucous membranes.
[2]
The name, levulinic acid (originally levulinsäure, in german) was suggested by A. v. Grote and B. Tollens in 1874 as it was prepared from L-sugar (L-fructose) known as levulose.
[3]
Levulinic acid can be produced by acid hydrolysis of 5-hydroxymethylfufural (5-HMF), or by transformation of biomass/cellulose via formation of monomeric sugar derivatives.
[4]
In 1953 Quaker Oats developed a continuous process to produce levulinic acid from carbohydrate material such as starch, cellulose, or sugars.
[5]
Application of Levulinic acid:
It can be used as a raw material in organic synthesis, especially in the production process of some pharmaceuticals, in the preparation of 5-methyl-2-pyrrolidone,
[6]
g-valerolactone
[7]
and angelica lactone.
[8]
It has been recently found to be useful in the production of plasticizers and its esters as fragrance ingredients (fraistone) are used in the cosmetics production.
[9]
LA was identified as one of the twelve promising bio-based building blocks that can be subsequently converted to a number of high-value chemicals, fuels or materials.
[10]
Product categorization (Chemical groups):
Main category:
[1]
S. M. Payne, F. M. Kerton
Green Chem.
2010
,
12
, 1648.
doi:10.1039/C0GC00205D
[2]
V. Sunjic, J. Horvat, B. Klaic, S. Horvat,
Kem. Ind.
1984
,
33
, 593.
[3]
A. V. Grote, B. Tollens,
Justus Liebigs Ann. Chem.
1875
,
175
, 181.
[4]
B. F. McKenzie,
Org. Synth.
1929
, 
9
, 50.
doi:10.15227/orgsyn.009.0050
[5]
A. P. Dunlop, P. A. Wells
Process for producing levulinic acid
1953
, Quaker Oats Co,
US2813900
[6]
Y. Liu, Y. Wang, Y. Cheng, Z. Wei
ChemistrySelect
2022
,
7
(26), e202201191.
doi:10.1002/slct.202201191
[7]
S. K. Hussain, V. K. Velisoju, N. P. Rajan, B. P. Kumar, K. V. R. Chary
ChemistrySelect
2018
,
3
(22), 6186.
doi:10.1002/slct.201800536
[8]
C. G. S. Lima, J. L. Monteiro, T. M. Lima, M. W. Paixăo, A. G. Corrĕa
ChemSusChem
2017
,
11
(1), 25.
doi:10.1002/cssc.201701469
[9]
C. Antonetti, D. Licursi, S. Fulignati, G. Valentini, A. M. R. Galleti
Catalysts
2016
,
6
(12), 196.
doi:10.3390/catal6120196
[10]
S. H. Pyo, S. J. Glaser, N. Rehnberg, R. H. Kaul
ACS Omega
2020
,
5
, 24, 14275.
doi:10.1021/acsomega.9b04406