Auf Lager
Cyclobutanecarboxylic acid
Produkt wurde eingestellt, aber wir haben Restbestände.
Gefrierpunkt/Schmelzpunkt/Bereich (°C)
195
Für weitere Informationen oder eine Anfrage senden Sie uns bitte eine E-Mail oder nutzen Sie unser Kontaktformular
Regulatorische Informationen
Dieses Produkt erfüllt nicht die Kriterien für die Einstufung in eine Gefahrenklasse gemäß der Verordnung (EG) Nr. 1272/2008.
Beschreibung
Cyclobutanecarboxylic acid ist eine nützliche chemische Verbindung mit vielfältigen Forschungsanwendungen. Wir freuen uns, qualitativ hochwertige Cyclobutanecarboxylic acid in verschiedenen Größen (für Forschungs-, Pilotmaßstabs- oder Produktionsanwendungen) von Milligramm- bis Multi-Kilogramm-Chargen anbieten zu können, sodass Sie ganz einfach die richtige Menge für Ihre Bedürfnisse auswählen können.
Vollständige Beschreibung anzeigen
Unfortunately, this article is currently only in English language. We are working on a translation. Thank you for understanding.
General description of Cyclobutanecarboxylic acid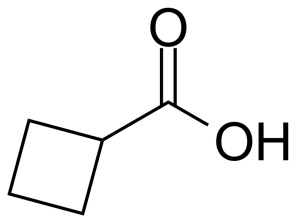 Cyclobutanecarboxylic acid or cyclobutyl formic acid [3721-95-7]
is a colorless liquid with the boiling point of 196 °C
[1]
at atmospheric pressure and melting point around -7 °C
[2]
. Altought relatively high LD50 (mouse, subcutaneous and intraperitoneal, 1270 mg/kg),
[3]
this compound is corrosive and can cause severe skin burns and eye damage. Cyclobutanecarboxylic acid is usually prepared by the hydrolysis and decarboxylation of diethyl cyclobutanedicarboxylate, formed in reaction of trimethylene dibromide with ethyl malonate and sodium in ethanol.
[4]
Another preparation is based on the oxidative ring contraction of cyclopentanone with hydrogen peroxide catalysed with selenium dioxide.
[5]
Application of Cyclobutanecarboxylic acid
Cyclobutanecarboxylic acid is useful principal reagent for the preparation of various monosubstituted cyclobutane derivatives in the synthesis of biological active compounds and approved drugs as Butorphanol
[6]
, Nalbuphine
[7]
, Boceprevir
[8]
and others.
[9]
Notes
Stable under recommended storage conditions. Conditions to avoid: Heat, flames and sparks. Incompatible materials: Strong oxidizing agents, Strong bases
Product categorization (Chemical groups)
Main category:
[1]
G. H. Jeffery, A. I. Vogel Ruter J. Chem. Soc.
1948
, 1804.
[2]
J. Boeseken, A. G. Lutgerhorst
Recl. Trav. Chim. Pays-Bas
1932
,
75
, 1846.
[3]
A. E. Senior, H. S. Sherratt,
J. Pharm. Pharmac.
1969
, 85.
[4]
Org. Synth.
1943
,
23
, 16. Cason, Ch. F. Allen
J. Org. Chem.
1949
,
14
, 1036.
[5]
G. B. Payne, C. W. Smith
J. Org. Chem.
1957
, 22, 1680.
[6]
I. Monković, H. Wong, A. W. Pircio, Y. G. Perron, I. J. Pachter, B. Belleau
Can. J. Chem.
1975
,
53
, 3094.
[7]
R.S. Vardanyan, V.J. Hruby Synthesis of Essential Drugs
2006
,
Elsevier
.
[8]
D. S. Bhalerao, A. K. R. Arkala, Y. V. Madhavi, M. Nagaraju, S. R. Gade, U K. S. Kumar, R. Bandichhor, V. H. Dahanukar
Org. Process Res. Dev.
2015
,
19
, 1559.
[9]
A. Sergeiko, V. V. Poroikov, L. O. Hanuš, V. M. Dembitsky
Open Med. Chem. J.
2008
,
2
, 26.</div<